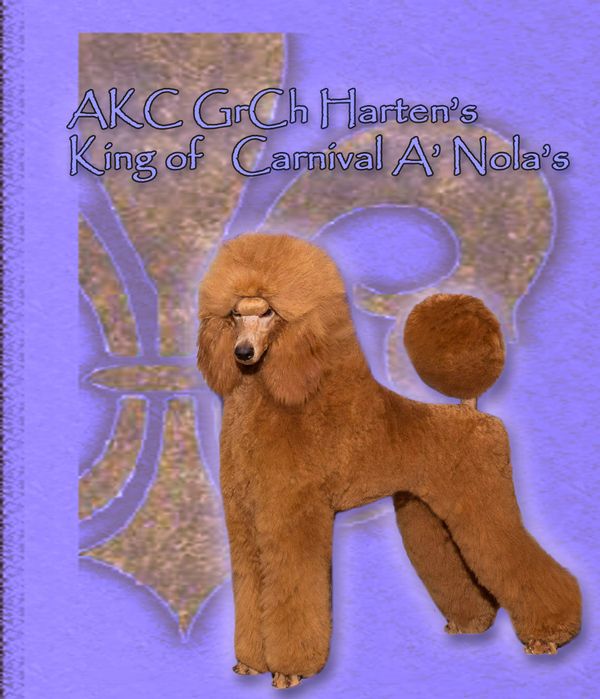 AKC GR CH Harten's King of Carnival a' NOLA's

Early on, we knew he would be special boy.  A name was needed,  not just any name, as he was not just any dog…so we called him "Rex". 
Now, in New Orleans, Rex is NOT just a popular name for dogs.  The Latin for "King" is "Rex".  And in NOLA, "Rex"  is
The
King.  
The King of Carnival.  The Monarch Of Merriment.  An Icon.  A Hero.  
New Orleans is a city whose roots are made of diverse cultures.   Her history is woven by many, all who contribute their symbolism and celebrations.   Rex and his Krewe and Court gave us Carnival Tradition, traditions that today define Mardi Gras in New Orleans.  
Rex reigns over the Carnival Season, heralding Mardi Gras with the grandest of carnival processions (to all you "Not From Here", that is a parade.) Unlike the "Super Krewes" of Bacchus, Endymion and Orpheous, with their fiber optic floats designed to carry hundreds of riders, the Rex Krewe still assembles floats using techniques that have spanned generations, entirely by hand. 
The Identity of Rex always a Secret and is not made public until Lundi Gras, the day our King arrives, usually by riverboat, into Spanish Plaza in Downtown New Orleans.  The Mayor hands over the Keys to the City and Rex  makes his Official Proclaimation of Carnival inviting His subjects to gather and celebrate. 
Time to wear the Purple, Green and Gold!  Rex's Royal Colors and the colors of Mardi Gras. 
Purple to Represent Justice, Green to Represent Faith
and
Gold to Represent Power.  And, of course, they match!
ALL HAIL REX!
Rex makes history as the FIRST Red Standard Poodle AKC Puppy Champion.   He is one of just a handful of red standard AKC GRAND Champions and to date remains the ONLY Bred By Exhibitor AKC Champion.
As a puppy Rex competed at the Eukenuba National Dog Show in the Variety with me handling.  It was an experience taking a red puppy into the ring with all the Specials.  Rex handled the crowd like a pro and I was so very proud of him.
Sharon Svoboda of Harten Kennels is his co-breeder.  Sharon's Harten bloodline stands as a beautiful example of standard poodles and I'm honored she chose to partner with me for Rex and Flambeau.