There is not a kennel at NOLA. My puppies are born and raised in the home; they are true "house dogs". I strongly believe that is how they grow up to be happy, well-adjusted adults that are used to the comings and goings of an everyday household. As they grow, they also have many hours of play time outside; exploring all the big wide world has to offer!
 
---
A breeding of

FINE REDS

 has occurred!
                      Email Tabatha@NOLAStandards for details.
Puppies experience Early Neurological Stimulation for their first week and then afterwards NOLA's follows Pat Schapps Puppy Rule of Sevens.  What wonderfully socialized puppies the 7s help create!  I am a  believer!  More times than anyone could count NOLA puppy owners exclaim smart and how confident NOLA pups are.   I'd take all the credit for the bloodline, but there is Nature and there is Nuture and the two go hand in hand!
If you haven't read about the Puppy Rule of 7s, you can find a link here
Pat Schaaps Puppy Rule of 7s/12s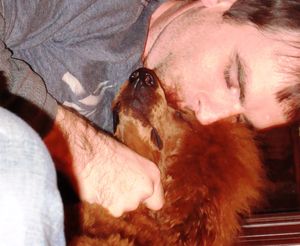 ONLY A PET?  

"I'm not interested in a show puppy, I only want a pet."
 
Well that is certainly understandable.  Showing a standard poodle in AKC conformation is an endeavor, and not a challenge many people are willing to OR want to take on!
 
It is because you want "ONLY A PET" that I health test and prove through titling the quality of my poodles! Your standard poodle pet puppy should be well bred and well adjusted.  Anything less is a disservice to you and to the standard poodle as a breed, because there is nothing quite like a beautiful, well-bred standard poodle!
 
At NOLA Standards we love our standard poodles and hope to have many healthy, happy years with them, our beloved pets, even the ones with CH in front of their names! 
 
To stack the deck in our favor, we test for genetic diseases and mate only to fully tested, complementary lines, constantly seeking health and diversity and improvement in structure.
 
We compete with our standard poodles in AKC Conformation because handling and showing our poodles is a fun and challenging activity that provides us, as standard poodle owners and breeders, with ongoing breed education and ever improving training and grooming skills.  Their AKC Championship title is hard earned, and it's proof that AKC Judges evaluated them by comparing how closely they met the written breed standard, graded their structure and movement and found them worthy.
 
With obedience competition and titling we verify their temperament, trainability and physical fitness and we have a great time together while we do it!  Remember, despite their "frou frou" haircuts, poodles are energetic and agile dogs.  Once, they were the Hunting Dogs of Royalty.  Their intelligence and athleticism is unsurpassed.  Standard poodles love to romp and play and please their owners and they do it with great hair!
 
Breeders who participate in AKC sanctioned events and who are members of Affiliated Kennel and Poodle Clubs are preserving the attributes by which we recognize the Amazing Poodle! (Being INVOLVED in the breed, doing MORE than just testing and breeding, is the ONLY real way to educate yourself as a breeder.)

PLEASE help stop back yard breeders and puppy mills by choosing your puppy from breeders who invest in testing and who are actively involved with breed clubs and in their local communities.  EDUCATE yourself before you select your new family member.  Don't buy impulsively!  Be informed and plan to be a responsible pet owner.
 
"He is your friend, your partner, your defender, your dog.  You are his life, his love, his leader.  He will be yours, faithful and true to the last beat of his heart.  You owe it to him to be worthy of such devotion".       Author Unknown