NOLA is an acronym for New Orleans, Louisiana or La Nouvelle-Orléans our beloved home city. Our logo features the Fleur de Lis, the symbol of French Royalty that we New Orleanians have taken as our symbol of Rebirth after Hurricane Katrina. NOLA's red standard poodle girls all have names that recognize the fabulous ladies and local icons that have influenced our city and the boys of NOLA Standards have names that pay tribute to Da Boys! Our New Orleans Saints!
NOLA's fine red standard poodles are stunning examples of color and conformation in the standard poodle.  NOLA Standards boasts AKC CH Antoinette Bordeaux du NOLA's Caniche Rouge, the 7th Red Standard Poodle AKC Champion, AKC GRAND Champion Le Glorious Lombardi du NOLA's Caniche Rouge, the first apricot dog AKC Grand Champion and AKC Grand Champion Harten's King of Carnival A' NOLA's, the first red standard puppy AKC Champion and to date the ONLY Bred By Exhibitor Red Standard Poodle AKC Champion, and to start of 2018 "Fireball" became the 19th red standard poodle AKC Champion,  officially, AKC Lido's Light My Fire du NOLA's.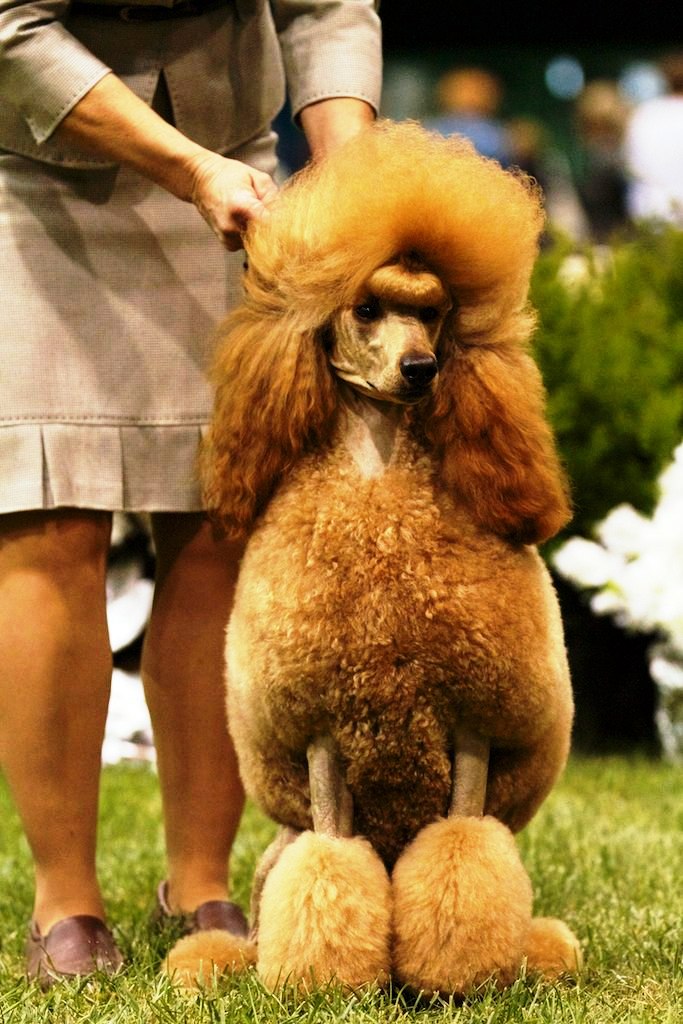 The NOLA Krewe brags are ones I am very proud of.  Their titles are the result of our journey together and reveal our path as we reach the goals that I have for NOLA Standards. It is the mission of NOLA Standards to breed to consistently produce "fine reds" - poodles with brilliant color, exceptional conformation, carriage and fabulous personalities while staying true to the purebred poodle.  I swab for diversity and incorporate old and diverse bloodlines, often outcrossing to maintain the health and integrity of the Standard Poodle as I work to improve my beloved "color".
 
A breeding of

FINE REDS

 has occurred!
                      Visit the Puppies Page!
---
NOLA Standards poodles are outstanding examples of the Standard Poodle Breed.  
In the AKC Show Ring Deuce is excelling, competing with me, a Breeder/Owner Handler and still managing multiple Group Wins in out of the Non-Sporting Group.  Not to be out-done, Brees and Lombardi and Rex have produced outstanding puppies with some lovely females and their offspring are winning.  I believe 2018 will be the year Lombardi makes Top Producer. 
At home and around town, NOLA Standards are working with their owners as certified therapy dogs, emotional support animals and amazing companions.  They alert for their people on seizures, when blood sugar is low and when PTSD rears its ugly head.  In classrooms and in doctor's offices they offer their calm, stable temperaments to re-assure and encourage.   
And though the working disciplines are not what I prefer to pursue, there are many NOLA Standards whose owners work with them, in nose work and search and rescue and in the field.  There are obedience and agility and working and upland titled NOLA Standards' poodles.   There are even NOLA Standards with advanced trick titles! 
You will also see NOLA Standards' poodles in magazines and movies, videos and fashion shows!
 Watch the NOLA Standards Face Book page for brags and breed news.
---

Once, I read a bumper sticker that said, "A well rounded dog is one with titles on both ends!"  I do agree.   Titles on both ends proves a well rounded animal.  Both form and function.   I'd love ALL NOLA's poodles to have multiple titles except for the limitations with my time and resources.  Training requires time and dedication and skill and consistency.  So does keeping coat for AKC Conformation and ring and table training.  For now I chose conformation.  It's a crazy passion, BUT I do strongly believe that breeders should be proving their breeding animals - and I don't mean proving they can breed!  Rather prove their poodles are excellent examples of the breed standard by achieving their AKC Championships.   In "the color" (which in poodles is any color EXCEPT black and white) achieving quality structure still needs to be a priority goal.  As a rule, we remain far behind our standard poodle cousins in white and black.  So while all poodles in the NOLA Krewe do not boast AKC Championships, many do.  And those that do boast some land-mark titles and are some of the most re-knowned and finest apricot and red Standard Poodles in the World!

Putting the titles on the end of the NOLA Standard poodles are some of the best homes in the world!  Families who love their NOLA Standards like a "fur human", who invest their time training, whether obedience for a trip to Lowes, or so they can hunt or work or even dance with their furry family members Thank you guys, for all the NOLA Standards with titles on the end of their names!  You know who you are!  Way to GEAUX!